Indiscriminate Love
Celebrating racial diversity is a topic that's more important than ever in our current national climate. God values diversity and expresses the beauty of diversity in His own Triune nature. But many Christians shy away from these topics because the topics can be emotionally charged or they feel ill-equipped to address them.
Purdue University's Chi Alpha, however, is responding to God's call and showing students that indiscriminate love truly is the heart of God and the heart of their ministry.
The Foundation of Indiscriminate Love
Last February, Purdue University's Chi Alpha hosted a workshop on race relations for Black History Month. When they started, they felt strongly that they were following God's heart. But they had no idea how revolutionary their idea would become and how many lives would be touched. Now, they're getting ready to host their second campuswide workshop this year on February 18.
Linda Seiler, U.S. missionary and director of Chi Alpha for Purdue University, said that when you truly study the heart of God, it's obvious how much He values unity in diversity. This prompted them to host their first conference last February, called: "Indiscriminate Love: Race Matters."
"The main premise of the whole weekend was Unity in Diversity," she explained. "It's the idea that everything goes back to the nature and character of God. As a Triune God, He exists as three distinct persons, but one unified God. And that diversity principle pervades all His creation. In marriage, the two become one. The same word to describe marital unity-in-diversity is the same word used to describe God in Deuteronomy 6:4.
"As a human race, we are to abide in unity, and yet still have diversity. We should have an appreciation for differences in culture, languages, and even how we look. Diversity is good, and it was God's idea from the start."
The Itinerary: Speeches, Skits, and Panels
This was the foundation for the Indiscriminate Love event, which spanned two days. On the first night of the event, Dale Crall, a U.S. missionary with Chi Alpha, spoke.
"He talked about the history of blacks in the Bible and where races came from," Seiler said.
Crall shared that many people in the Bible whom Christians mistakenly believe were white were actually dark-skinned.
Next, Gabriel Bridgmon, a missionary associate with Chi Alpha, spoke. Bridgmon, 58, lived through the Civil Rights movement, so he was able to present a unique perspective. He talked about how Christians can respond when they see racial injustice, without falling into a world system that divides races.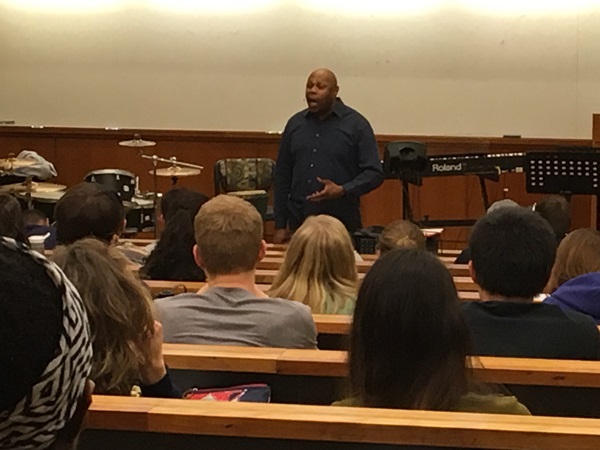 "To have an older Christian say 'Yes, it's unjust, but here's how we respond through the lens of the Gospel,' was crucial," Seiler said about Bridgmon's talk.
On the second day of the conference, students led a multiracial interactive workshop that had four parts. In Round One, students did a skit from the perspective of a black student, describing a micro-aggression or painful situation they encountered.
"For example, maybe someone has a good heart, but they don't realize they're projecting something hurtful," Seiler explained. "Some people don't understand racial issues, so they say things that are misinformed."
Next, a student gave a five-minute "TED" talk explaining the skit. Then they broke into small groups to talk about what they saw. Finally, for the fourth round, students answered questions about the topic for five more minutes.
"We did four rounds of this with four different topics," she said.
After the interactive workshop, the conference ended with a panel discussion.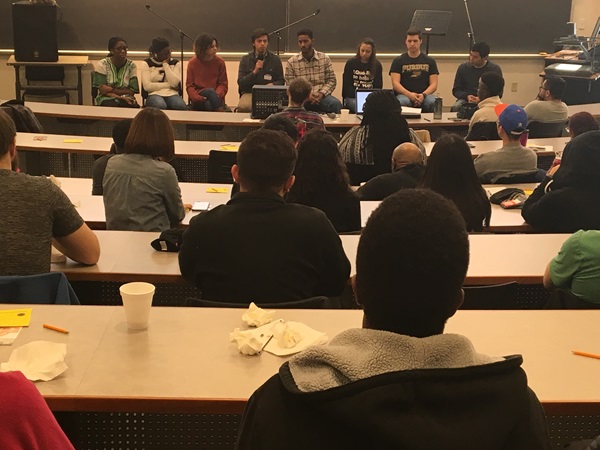 "African American students, white, bi-racial, Chinese-American, Mexican-American — a variety of perspectives were represented," Seiler said. "Students were able to ask whatever question they wanted."
In order to facilitate open and honest discussion, they set up ground rules. The panel was to be a safe place. No one would be offended by a student's question. The conference was very well-received by students.
"A campus pastor for the Wesley Foundation asked if our students would share this at a university religious leaders meeting," she said. "It went over so well that we had eight other campus ministries who wanted to partner with us to put on an Indiscriminate Love workshop again this February 2017... And the Dean of Students asked us to do a presentation for the Purdue faculty."
Students Feel at Home with Chi Alpha
For this year's Indiscriminate Love workshop, students from Chi Alpha are partnering with students from other ministries around campus to put on the event. They're hoping this year's event will touch as many lives as last year, maybe even more.
Many students expressed their thanks for tackling such a difficult, emotional topic last year, and ended up making Chi Alpha their new home.
"We had an influx of African American students and biracial students who felt Chi Alpha was a safe place for them, where they were valued and diversity was a good thing," Seiler said. "The event also equipped our existing students to value diversity and value the nations the way God does.
"This is not just a societal push for multiculturalism. This is grounded in the Gospel and who God is. His character and nature is unity in diversity. That's gotten deep into our students, because it's linked to the heart of God."
If you're reading this and feel drawn to help or learn more about what's happening at Purdue, visit XAPurdue.com for more details. To partner monthly or give a one time donation to Linda Seiler, click here.