Fully Known and Perfectly Loved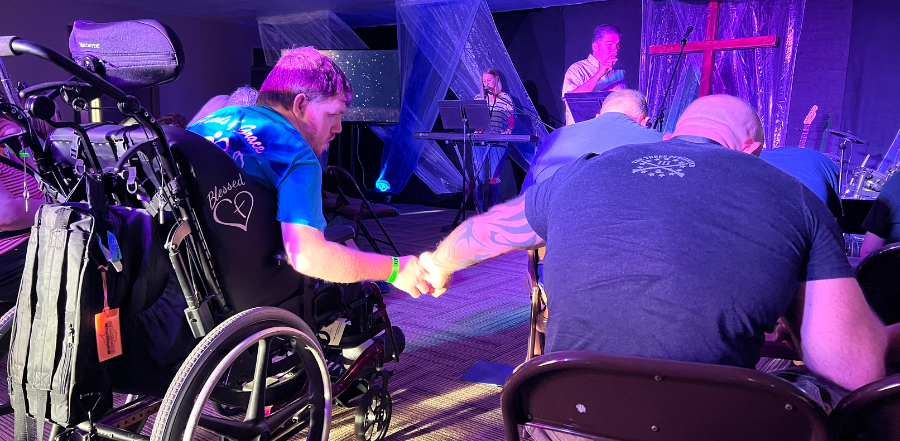 by Steve Arnold
1/31/2023 10:00:00 AM
Debbie Chivers, U.S. missionary with Intercultural Ministries, recalls God's faithfulness and says, "When it gets tough, you've got to run back to that standing stone and say, 'Look! God met me here.'"
A key memory for Debbie is the dramatic way that God called her and her husband, Charlie, into a lifetime of dedicated ministry to people with disabilities through Special Touch Ministry. He continues to prove faithful to Debbie in spite of the pain of losing her beloved husband to COVID-19 after 50 years of life and ministry together.
In his first year at North Central Bible College, Charlie delivered jewelry for businesses that "liked to hire Bible school students because they were trustworthy," recalls Debbie. While driving to work one day, the sight of a man with a disability struggling to cross the road caused Charlie to cry out to God, asking how he might help people living with these challenges.
When he arrived at work and stepped out of the elevator, Charlie found himself face to face with a disheveled, gravelly voiced man with physical disabilities saying, "I hear your name is Charlie Chivers, and I hear you're going to Bible school to be a preacher." The man, Tom St. Angelo, was a jewelry business owner who was heading home to Chicago, and Charlie's hometown was on his way. He continued, "Don't most Bible school students want to go home for the holidays?"
Charlie had no intention of accepting this stranger's offer of a ride home for Christmas, but unable to find another ride, he later sought him out. He was alarmed by the unfamiliar route as chain-smoking Tom drove silently out of town and planned to escape the car at a red light, but no opportunity arose. As their surroundings became more familiar, he relaxed.
To break the silence, Charlie took his guitar from the back seat and began to play and sing "Amazing Grace" when, to his surprise, he heard Tom's rough voice singing, "… that saved a wretch like me." Tom, whose face was streaming with tears, was losing his business due to dishonest employees and he was on his way home to take his own life. He had selected Charlie to share his final drive in the hope that he could give him his last rites. "You know, it really doesn't work that way," responded Charlie. "You need to know a Savior." He added, "And if you kill yourself, how am I gonna get back to school?"
Tom met Jesus that day and Charlie took the first steps in discipling him in his newfound faith. In the years to come, Tom would have a very effective ministry to others with disabilities, even inviting Charlie and Debbie to speak and sing for a camp he was leading.
God used Tom's miraculous salvation experience and his camp for people with disabilities to launch the Charlie and Debbie into ministry to the disabled, beginning with a faith-stretching commitment to host a similar camp in Wisconsin every summer.
Debbie and Charlie saw that there were "few, if any, people with disabilities in any church, yet 15 to 20 percent of every community is dealing with disability on some level." This reality still propels Debbie and Special Touch Ministry as they encourage and equip churches to be intentional about including people with disabilities. Debbie says, "You have to have it in the DNA of your church plant to include people of all ages, abilities, and intellects." She illustrates, "Here in Wisconsin, if we get a bunch of snow, what is the first thing that you're going to shovel, the ramp or the stairs? If you shovel the stairs, you keep people out. If you shovel the ramp, everybody can come in."
The Disability Friendly Church program includes a survey that churches can use to evaluate how well they welcome their neighbors impacted by disability. The Church Guide to Disability Ministry is a free tool to help churches develop this essential facet of ministry. Debbie shares that "people are scared of what they don't know and information dispels fear." The theme for Special Touch Ministry in 2023 reflects this: "You are fully known. You are perfectly loved."
To embody that perfect love, Special Touch Ministry also hosts Summer Get Away camps for people with disabilities, and provides valuable resources for the visually impaired, who often have little access to godly influence. They produce the Alive in Five tract and partner with U.S. Missions' Youth Alive to distribute the resource, which uses braille alongside large print. Though primarily distributed in the U.S., they also learned of a blind woman in Sierra Leone who reads the gospel message from the Alive in Five tract to a group of sighted women who can't read for themselves.
Tracie Corll is a U.S. missionary associate with Intercultural Ministries. She coordinates Special Touch Ministry in Ohio alongside her husband Duane. At a summer Get Away, Tracie was serving as a caregiver for a nonverbal woman who was quite reluctant to participate in anything. Tracie asked God, "What has she really gotten and understood this week?" To Tracie's amazement, this woman came forward for prayer on the last evening. Tracie remembers, "I started to pray with her and tell her how much God loves her and how precious she is to Him. For the first time that week, she looked me directly in the eye, and had the biggest smile on her face. That was God telling me, 'I've got this!' We need to know that God speaks to the hearts of our people. He doesn't need our intellect. He was working in her heart all week long."
Joe and Ann Trementozzi, U.S. missionaries with Intercultural Ministries who are key leaders in Special Touch Ministry, were called into disability ministry after seeing the devastation in families that are impacted by disability. While supporting their daughter, Beth Ann, who was competing in the Florida state Special Olympics, they realized that they didn't see another married couple cheering on the 1,500 competing athletes. Ann says, "The Lord spoke to our hearts that we needed to do something to show these families and individuals that, with the Lord, you can make it through."
Joe emphasizes the excitement they currently feel after years of seeing apathy. They are witnessing more churches love and include people impacted by disabilities. "I can't help but feel that we are truly living in the last days because of the fact that we are reaching a people group that has been disenfranchised and marginalized since the beginning," Joe exclaims. "I'm excited about that! Do I think there's a great future? Oh, absolutely!"
---