Rosebud Calling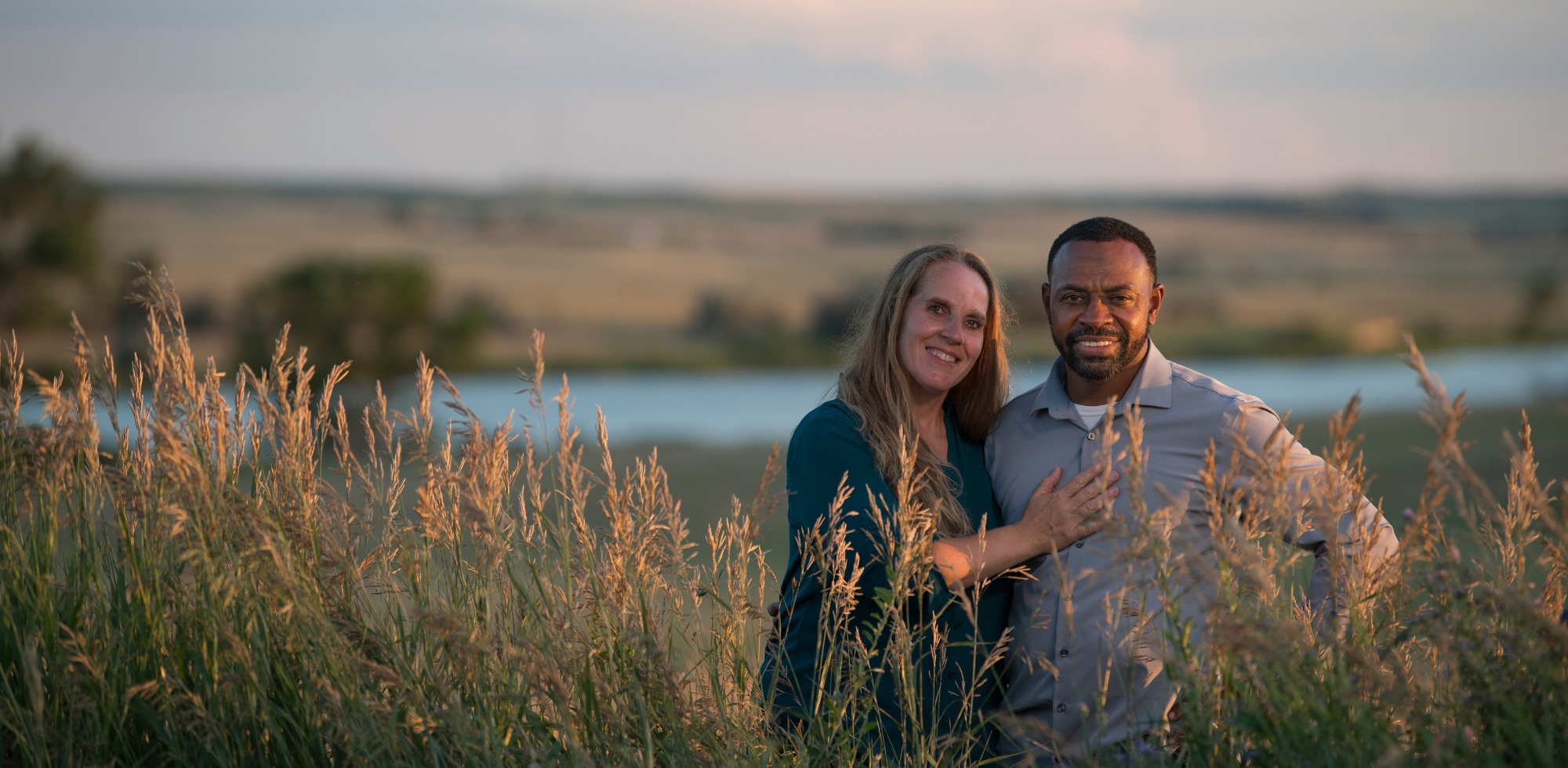 by Kristel Zelaya
Monday, November 21, 2022 3:00 PM
As smooth and uninterrupted as the ocean, South Dakota's prairie stretches to meet the horizon. At twilight, one can see the sun setting on one side and the moon rising on the other, lit by spectacular shades of blue, purple, pink, yellow and red.
Amid such ethereal natural beauty, an ancient story of pain and destruction continues playing out.
South Dakota's nine massive Native American reservations are home to nearly 90,000 enrolled tribal members and comprise some of the poorest counties in the United States. Tragedy and abuse keep life in ongoing turmoil, and suicides are grievously common. Drug cartels have also infiltrated the reservation, perpetuating violence, addiction, and human trafficking.
DEVOTED
Since 2009, U.S. missionaries Johnny and Heidi Wade, who serve with Intercultural Ministries, have lived in a simple trailer on Rosebud Lakota Sioux reservation in Mission, South Dakota. Filled with love for the Lakota people, they are empowered by the Holy Spirit, protected by the blood of Jesus, and devoted to proclaiming the authority of God the Father over any spiritual enemy seeking to destroy their Native American friends and neighbors. But their stance comes at a price.
"It is tough, dry ground here," says Johnny. "We need prayer for a move of God and for a hedge of protection around us. Sometimes, because we are so isolated, we can forget that the rest of the Church world has our back. We get overwhelmed with the heaviness."
Johnny explains that the spiritual dynamic on the Great Plains reservations is different from that on southwestern reservations, where there are some strong Native American churches. An Apache lady from the southwest came to the Rosebud area and described to the Wades what she felt as "constant heaviness" here.
"Reservations need a spiritual awakening," he says.
Across the area, there is a great deal of spiritual darkness. The Lakota religion goes back generations and involves rituals to the highly revered native god. These rituals include piercing oneself with buffalo skulls and flesh offerings. Hundreds of sun dances and other events occur in and around Rosebud and are hubs for such activity.
The Wades, along with Native American Christians, avoid these events, knowing that they must step away from anything contrary to following Jesus, or that separates them from Him. The same is true for every believer from any time, place or culture.
THE STORY OF JOHN BOYLES
A Lakota man named John Boyles (once known as John Firecloud) made that decision many years ago.
An attendee of All Nations Family Worship Center, Johnny and Heidi's reservation church, John speaks with a low voice and hands folded in front of him. His black hair is spattered with grey and drawn into a low ponytail.
"There is a higher power than traditional religion has been saying. We don't need to pierce ourselves with buffalo skulls and bleed and sacrifice because Jesus has already done that."
John and his wife, Janice, are familiar with both pain and the restoring sacrifice of Jesus. Now in their sixties, the couple have walked through a series of life tragedies that for most would be crippling. Yet through the sustaining power of the Holy Spirit and supernatural interventions, the Lord defends them and their faith.
"Before I was saved," John says, "I did many wrong things. I drank and was extremely addicted to marijuana." He recalls one night when he left his wife and young children at home and went drinking. When he came home, the house was ablaze. He says, "When I ran into the house to get them out, I saw an evil spirit in the fire." Janice was terribly burned that night, and their young son died in John's arms on the way to the hospital.
Years later, in 1991, another of John and Janice's sons became involved in a terrible, convoluted situation and was sentenced to life in prison without parole.
"We went crazy trying to find ways to get him released," John says. "We went to sun dances and to people who call on spirits. But nothing gave us relief from the stress and heavy burden."
Lawyers and psychics told John and Janice that life in prison was their son's destiny. John remembers one occasion on which he paid one lawyer everything he had — $100 — in another fruitless attempt to free his son.
Then, one day, the family had the most unexpected visitors — some nuns. John cracks a smile. "I don't know where they came from, but they came to pray with us. Then some Native evangelists also came and prayed for us. That's when I accepted Jesus. It was like streaks of lightning came down and I immediately knew He was real."
John was instantly delivered from addictions upon accepting Jesus. He and Janice started hosting prayer meetings in their home and eventually became part of a network of prayer meetings happening in every one of the surrounding communities. "God was moving," John recalls. For over a decade, the Bible study in John's home community of White River flourished.
And after 14 years, John's son was set free from prison.
"We have been doing our best to serve Him however we can," John says. "Tithes and offerings are one of the best ways we can do that no matter what we have."
Though the once-flourishing prayer meetings have shriveled, John and Janice continue to seek Christ. Janice was healed of a diagnosed heart blockage during a prayer meeting, and when she had follow-up surgery to remove crusting from her heart, she was ministered to by a Nigerian doctor aptly named Dr. Godspower.
SHIELDED
In addition to physical protection, the Boyles family has witnessed spiritual protection as well. One day as another of their adult sons was walking to town, he saw what appeared to be black fingers with white teeth reach out of nearby bushes, attempting to grab him. As they snatched at him, a bolt of lightning came from heaven, striking the fingers and causing them to recoil. So shocked by what he saw, their son retraced his steps. Each time he passed the bushes, the fanged fingers reached for him. And each time, they were thwarted by the lightning.
"It is a miracle that God saved my son," says John. "It is very important for people to know that Jesus can defend them from all those things. We have been attacked in a lot of ways, but God brings us through and then we just forget about it. We pray and we move on."
The Boyles family lives by Philippians 4:13: "I can do all things through Christ who gives me strength." They clung to Jesus through the loss of their adult daughter, who took her own life, and are trusting Him on behalf of her four children, whom they are raising. One of the kids, their granddaughter, was recently awarded a full scholarship to Stanford University in California.
John says, "It is a bad situation on the reservation. There is confusion and mixing of religions, drinking, and heavy drugs. Lots of grandparents raise their grandkids as the mothers are out on meth or drunk. Gangs came here about 20 years ago and I hardly recognize the place since then. Lack of employment and dependence on the government are also problems. It really is mixed up around here. I don't understand it all myself."
John and Janice urge fellow believers to pray for the whole reservation — that hardness of heart and mind would be melted by the goodness of Jesus. "Spirits of rebellion and denial and the sins of the fathers keep them from seeing their need for forgiveness," John says. "People need to turn from the old ways by the power of the Holy Spirit."
For the most part, John and Janice's friends and neighbors are courteous regarding their faith in Jesus.
"We tell them we worship the God of the Bible — the God of heaven and earth— not anything of the earth," he says. "People don't realize the medicine men are calling up spirits from the devil. They think their dead loved ones are helping them. It is very hard to tell them the truth because they have done this for many generations. They kind of laugh it off and say that I am speaking for the white man, but I'm not bothered by that. I know the truth for myself. Jesus is the King of kings and Lord of lords. No other god can do what He does. Not sage, not medicine wheels, not mixing of religions with traditional things. Jesus is real and He is the only One."
GROUNDED
Johnny and Heidi know they must rely on Native American believers like John and Janice to help them contextualize the message of the Bible for their surroundings. Johnny shares that there are over 600 tribes, each one with its own unique religion, including animism, pantheism, and more.
"A middle-class American gospel will not work here," he says. "Unless we do our job and can empower Native American Christian leaders, we can't succeed. They are deeply in tune with spiritual things and need to be the ones in the pulpit — they will have more effectiveness. To have long-term success, the missionary must be in the background."
They have found good help in discipleship materials written by Jimmy Yellowhair, and seek the Lord for wisdom to communicate truth, particularly about the areas of eternity and sin, for which traditional religions do not have solid answers.
Johnny and Heidi know well the urgency of being biblically sound and grounded in solid theology. Daily they seek to better understand the cultural, social and spiritual climate in which they live. In the privacy of their own home, they seek, discuss, fast, and pray, learning how best to fight for the people they love so much.
"We are viewed as coming in with 'the white man's gospel,'" Heidi shares, "even though Johnny isn't white. Here they watch outsiders carefully. Our neighbor across the street told us, 'We've been watching you and you are the real deal.' You can't come here in a year and expect any response — one year is nothing. You must develop relationships and that takes time."
Earlier in their ministry, the Wades' consistent presence and care in and around the Rosebud community had helped build their church to an adult attendance of around 65. Johnny remarks that according to one veteran missionary to Native Americans, that number constitutes a mega church.
Yet upon reopening after a year of closure due to the pandemic and Johnny and Heidi's itineration (fundraising) time, the adult congregants have not returned. Yet Johnny and Heidi maintain their presence at the church and in the community, living side by side and building friendships.
Even very influential community members (including medicine men, who are powerful spiritual and social leaders in each community) are among the Wades' friends. One medicine man called Johnny and Heidi following the death of his mother and as his father lay dying from COVID-19.
"No one else would go visit," Johnny remembers. He and Heidi went and were able to pray with the family. The dying man wept as they prayed.
A second medicine man called Johnny to come as he lay dying from cancer, and, in a wonderful miracle, prayed with Johnny to accept Jesus as Savior just before he died.
A third very powerful medicine man had a remarkable experience with Jesus at the altar in the Wades' church, and Johnny and Heidi trust that it is just the beginning. They also dream of seeing stronger partnerships between Native American Christ-followers and Christ-followers of various other cultures.
"I do want to expose Native Americans to larger church culture," Johnny says. "But for that to happen, people need to know. We have been in many churches and most people do not even know that this need exists, and they have never met a missionary to Native Americans," Johnny says.
METRO KIDZ
While many Native American adults are simply not open to the idea of Jesus as God and Savior, many children and youth are open and searching. To help meet the need, Johnny and Heidi developed the ministry Metro Kidz, which serves around 100 children through weekly services year-round, and around 300 kids through special annual events. They also host weekly youth services, which are attended by 25–50 teenagers.
In their brightly colored school buses, Johnny and Heidi visit 150 homes per week picking up kids and youth for church. The week that Heidi's father died in June 2022, they did not drive their route, much to the children's dismay. Multiple parents called the Wades, saying, "The kids are waiting for you."
"That was interesting," Heidi says. "Many Lakota believe that Christians have destroyed their culture, and they tell that to their children. Yet they call us, asking us to see their kids. And they know we are preaching Jesus to them."
"Our youth are like youth anywhere," she continues. "They are trying to be cool, trying to be tough. They try to embrace Christianity, yet sometimes are persecuted for going to church. Sometimes kids call us crying, not knowing what to do."
Additionally, a staggering number of girls on the reservation are sexually abused. As a result, many girls self-harm or become self-destructive in other ways. Heidi stands with the girls as best she can, counseling and assisting girls as they navigate the dangers of their community. Missing and Murdered Indigenous Women (MMIW) USA states that Native American women and girls are murdered at 10 times the rate than all other ethnicities.
One young girl, with sparkly black eyes and vivacious energy, shares her experience: "I grew up in Metro Kidz, and now I'm in youth group. I like to help supervise! I stay with my grandpa, and I love him. We like to go to the rivers and lakes, to fish and ride in his boat. On the reservation I walk by myself a lot, but there are homeless guys who go around and cut women. I don't know why. I try not worry about it."
PERSISTENCE
In the face of such tremendous challenges, Johnny and Heidi are humble and honest about their struggles. They say, "It doesn't make sense sometimes why we are still here. But every time we try to leave, some fight happens, and we cannot deny the sovereignty and direction of how God is guiding our lives."
Jake Krahn, who serves as lead pastor of New Life Assembly of God in Pierre, South Dakota, and is presbyter for the AG district that includes Rosebud, affirms Johnny and Heidi. "We love them," he says, "and are so happy to have them as part of South Dakota! It is very hard to get anyone to go to any of the many reservations. They deal with hard things that churches like mine have no parallel for. It takes tenacity."
Gary Wileman, the late and beloved pastor of Aberdeen First Assembly of God, in Aberdeen, South Dakota, also encouraged them, telling Johnny, "You are our missionary. You are a soldier for the Lord."
Johnny and Heidi urge others to join them in answering the call of God to reservations.
"He is calling, and people need to start answering," Heidi says. "We have been here a long time, and no one has said yes. We need counselors, youth leaders, everything. I know He is calling."
Johnny concludes, "It is just a wild vision right now, but I believe we can reach this place for the gospel. We don't want to leave our work unfinished."
---